A fluffy cake frosting made by gradually pouring a hot sugar syrup over stiffly beaten egg whites, beating constantly until the mixture is smooth and satiny. An Italian meringue is made in the same manner.

From The Food Lover's Companion, Fourth edition by Sharon Tyler Herbst and Ron Herbst. Copyright © 2007, 2001, 1995, 1990 by Barron's Educational Series, Inc.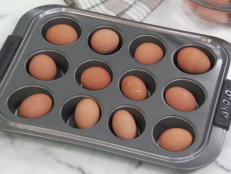 "Hard-boiling" eggs in the oven is perfect for making large batches of eggs, and it offers consistent results with little fuss or attention required.