The name of this all-American Wisconsin cheese is said to have come from the fact that bricks were once used to weight the curd and press out the whey; it's also brick shaped. Made from pasteurized cow's milk, brick cheese is pale yellow and semisoft and has a mild, earthy flavor when young. As it ripens, however, it becomes almost as strong as limburger. See also cheese.

From The Food Lover's Companion, Fourth edition by Sharon Tyler Herbst and Ron Herbst. Copyright © 2007, 2001, 1995, 1990 by Barron's Educational Series, Inc.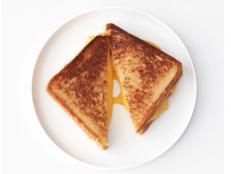 Make a sandwich from Food Network Magazine for any meal of the day—even dessert!