To cook food directly under or above the heat source. Food can be broiled in an oven, directly under the gas or electric heat source, or on a barbecue grill, directly over charcoal or other heat source.

From The Food Lover's Companion, Fourth edition by Sharon Tyler Herbst and Ron Herbst. Copyright © 2007, 2001, 1995, 1990 by Barron's Educational Series, Inc.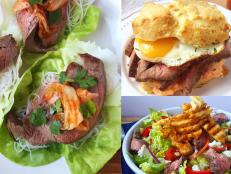 Here are a few ways to use broiled steak as the foundation for easy yet impressive meals.