This native American nut grows in New England and is also known as the white walnut. It has a rich, oily meat which is generally used in candies and baked goods. Because of the high oil content, butternuts become rancid quickly. See also nuts; walnut.

From The Food Lover's Companion, Fourth edition by Sharon Tyler Herbst and Ron Herbst. Copyright © 2007, 2001, 1995, 1990 by Barron's Educational Series, Inc.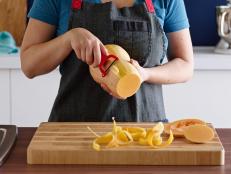 Cooking butternut squash, with its hard, thick shell, can seem daunting. But it's easy to prepare this orange-fleshed winter staple once you learn a few simple tips. Use butternut squash in soups and pasta dishes, or just serve it baked in its shell with a pat of butter and a drizzle of honey. Cook butternut squash by baking, microwaving or roasting.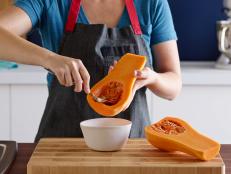 Sure, you could enjoy it roasted plainly in olive oil or blended into soup, but why limit yourself? This kitchen superstar jumps from sweet to savory so effortlessly that the only hard part is deciding how to eat it.