This classic English dessert is made with layers of bread, cake or ladyfingers (which may be soaked with liqueur), dried fruit and custard. The pudding is baked, unmolded and usually served with crème anglaise. Another version of cabinet pudding uses gelatin and whipped cream; rather than being baked, it's simply chilled until set.

From The Food Lover's Companion, Fourth edition by Sharon Tyler Herbst and Ron Herbst. Copyright © 2007, 2001, 1995, 1990 by Barron's Educational Series, Inc.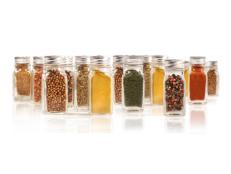 To make cooking easier, and to keep your kitchen in order, organize spices and dried herbs by cuisine, using this simple guide.