A salad consisting of greens (classically, romaine lettuce) tossed with a garlic vinaigrette dressing (made with worcestershire sauce and lemon juice), grated Parmesan cheese, croutons, a coddled egg and sometimes anchovies. It is said to have been created in 1924 by Italian chef Caesar Cardini, who owned a restaurant in Tijuana, Mexico.

From The Food Lover's Companion, Fourth edition by Sharon Tyler Herbst and Ron Herbst. Copyright © 2007, 2001, 1995, 1990 by Barron's Educational Series, Inc.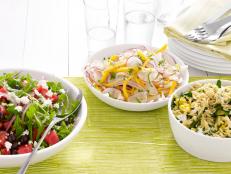 Toss together one of these fresh and easy combos from Food Network Magazine for your next party.