An aspic made by boiling calves' feet until the natural gelatin is extracted. The liquid is strained, then combined with wine, lemon juice and spices and refrigerated until set. If sugar is added, it can be eaten as a dessert. Calf's-foot jelly was once thought to be a restorative for invalids.

From The Food Lover's Companion, Fourth edition by Sharon Tyler Herbst and Ron Herbst. Copyright © 2007, 2001, 1995, 1990 by Barron's Educational Series, Inc.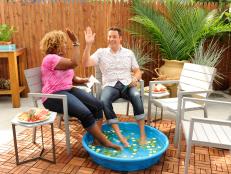 Learn to make a kiddie pool foot soak, a spa product featured on The Kitchen.