Pronunciation: [KEHR-uh-way]

These aromatic seeds come from an herb in the parsley family. They have a nutty, delicate anise flavor and are widely used in German, Austrian and Hungarian cuisine. Caraway seeds flavor many foods including cheese, breads, cakes, stews, meats, vegetables and the liqueur kümmel. They should be stored airtight in a cool, dark place for no more than six months.

From The Food Lover's Companion, Fourth edition by Sharon Tyler Herbst and Ron Herbst. Copyright © 2007, 2001, 1995, 1990 by Barron's Educational Series, Inc.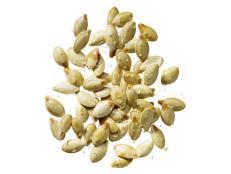 Pumpkins aren't just for pies and carving. Roast the seeds for a tasty treat or use them in these delicious recipes.