Before the 16th century, celery was used exclusively as a medicinal herb. Now it's become one of the most popular vegetables of the Western world. Celery grows in bunches that consist of leaved ribs surrounding the tender, choice heart. There are two main varieties of celery grown today. The most common is the pale green Pascal celery. Golden celery is grown under a layer of soil or paper to prevent chlorophyll from developing and turning it green. Celery is available year-round. Choose firm bunches that are tightly formed; the leaves should be green and crisp. Store celery in a plastic bag in the refrigerator up to two weeks. Leave the ribs attached to the stalk until ready to use. Celery should be well washed and trimmed of leaves and at the base. Reserve the leaves for soups and salads. Celery is usually eaten raw but is delicious cooked in soups, stews and casseroles.

From The Food Lover's Companion, Fourth edition by Sharon Tyler Herbst and Ron Herbst. Copyright © 2007, 2001, 1995, 1990 by Barron's Educational Series, Inc.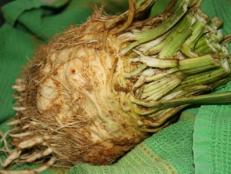 This root veggie might look a bit unusual, but don't let that scare you away from giving it a chance. Celery root (a.k.a. celeriac) is a delicious early fall treat.