The seed of a wild celery called lovage, most of which comes from India. Celery seed has a strong flavor and should therefore be used sparingly. It's used in pickling and to flavor soups, salads and various meat dishes.

From The Food Lover's Companion, Fourth edition by Sharon Tyler Herbst and Ron Herbst. Copyright © 2007, 2001, 1995, 1990 by Barron's Educational Series, Inc.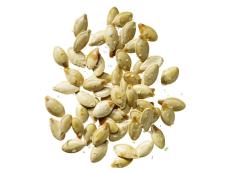 Pumpkins aren't just for pies and carving. Roast the seeds for a tasty treat or use them in these delicious recipes.