Pronunciation: [CHEH-sher]

Hailing from the county of Cheshire, this rich, cow's-milk cheese comes in three varieties—white, red and blue—and has a reputation as one of England's most famous cheeses. The white (actually pale yellow) and red (apricot-colored) Cheshires are very similar, differing mainly in the fact that the red variety has been dyed with annatto. They're young cheeses, having an average age of 8 weeks, with a semifirm texture and a mild, tangy, cheddarlike flavor. Farmhouse Cheshire, rarely exported, is usually aged about 9 months and has a richer, fuller flavor for the effort. Blue Cheshire, sometimes referred to as Cheshire-Stilton, is made like regular Cheshire except that Penicillium roqueforti-inoculated curd is mixed with fresh curd to create the mold necessary for blue cheese. This version boasts a beautiful golden interior veined with blue and is just as rich as stilton but milder in flavor. Cheshire cheese has long been a favorite for welsh rabbit. See also cheese.

From The Food Lover's Companion, Fourth edition by Sharon Tyler Herbst and Ron Herbst. Copyright © 2007, 2001, 1995, 1990 by Barron's Educational Series, Inc.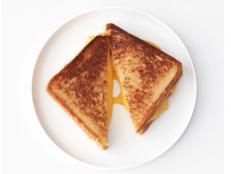 Make a sandwich from Food Network Magazine for any meal of the day—even dessert!