The natural, cream-colored vegetable fat extracted from cocoa beans during the process of making chocolate and cocoa powder. It's used to add smoothness and flavor in some foods (including chocolate) and in making cosmetics and soaps.

From The Food Lover's Companion, Fourth edition by Sharon Tyler Herbst and Ron Herbst. Copyright © 2007, 2001, 1995, 1990 by Barron's Educational Series, Inc.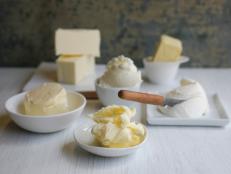 Learn how to navigate all the butters in your supermarket dairy aisle, then find out which applications require the different varieties.