Malaysia is the motherland of the coconut palm, which now grows in parts of South America, India, Hawaii and throughout the Pacific Islands. This prolific tree yields thousands of coconuts over its approximately 70-year lifespan. Each coconut has several layers: a smooth, deep tan outer covering; a hard, dark brown, hairy husk with three indented "eyes" at one end; a thin brown skin; the creamy white coconut meat; and, at the center, a thin, opaque coconut juice. The smooth outer shell is usually removed before the coconut is exported. Young coconuts are those that are harvested early. Their meat is soft and chewy, and they still have their brown hairy husks. White coconuts are young coconuts with the husk removed, revealing the hard inner "white" shell. The coconut palm maximizes its potential by producing several products including food (coconut meat and buds) and drink (coconut juice, vinegar and toddy — the latter a potent fermented drink made from the tree's sap). Dried coconut meat, called copra, is pressed and used to make coconut oil, which is used in commercial frying and as a component in many packaged goods such as candies, margarines, soap and cosmetics. Coconut oil — one of the few nonanimal saturated fats — is used widely in the manufacture of baked goods such as commercial cookies. Certain major manufacturers have replaced it with the more expensive unsaturated fats with an eye toward cholesterol consciousness. The coconut palm's hard shells can be used for bowls, the fiber for ropes and nets, the wood for building, the roots for fuel and the leaves for baskets, hats, mats and thatching. The flesh of unripe coconut (usually not exported) has a jellylike consistency and can be eaten from the shell with a spoon. Upon ripening, the flesh becomes white and firm. Fresh coconuts are available year-round, with the peak season being October through December. Choose one that's heavy for its size and that sounds full of liquid when shaken; avoid those with damp "eyes." Whole, unopened coconuts can be stored at room temperature for up to six months, depending on the degree of ripeness. The liquid in a coconut is drained by piercing two of the three eyes with an ice pick. This thin juice can be used as a beverage, though it shouldn't be confused with coconut "milk." Then the meat is removed and the inner skin scraped off. Chunks of coconut meat can be grated or chopped, either in the food processor or by hand. One medium coconut will yield three to four cups grated. Grated fresh coconut should be tightly covered and can be refrigerated up to four days, frozen up to six months. Packaged coconut is available in cans or plastic bags, sweetened or unsweetened, shredded or flaked, and dried, moist or frozen. It can sometimes also be found toasted. Unopened canned coconut can be stored at room temperature up to 18 months; coconut in plastic bags up to six months. Refrigerate both after opening. Coconut is high in saturated fat and is a good source of potassium.

From The Food Lover's Companion, Fourth edition by Sharon Tyler Herbst and Ron Herbst. Copyright © 2007, 2001, 1995, 1990 by Barron's Educational Series, Inc.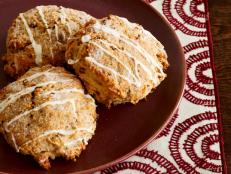 Sweet scones from a California reader came out on top in our coconut-themed contest.