A complete protein food source is one that contains adequate amounts of the nine essential amino acids. Most foods derived from animal sources are considered complete protein foods, whereas others such as fruits, vegetables and grains, which are generally lacking one or more of the essential amino acids, are called incomplete protein foods.

From The Food Lover's Companion, Fourth edition by Sharon Tyler Herbst and Ron Herbst. Copyright © 2007, 2001, 1995, 1990 by Barron's Educational Series, Inc.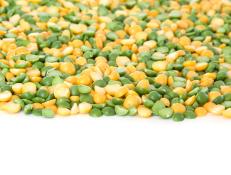 Get the facts about the pea protein trend.