Pronunciation: [kuhn-FEHK-shuh-nehrs]

Powdered or confectioners' sugar is granulated sugar that has been crushed into a fine powder. To prevent clumping, a small amount (about 3 percent) of cornstarch is added. Powdered sugar must generally be sifted before using. Because it dissolves so readily, it's often used to make icings and candy. It's also used decoratively as a fine dusting on desserts. One and three-quarters (packed) cups powdered sugar equals 1 cup granulated sugar. Powdered sugar is called icing sugar in Britain and sucre glace in France.

From The Food Lover's Companion, Fourth edition by Sharon Tyler Herbst and Ron Herbst. Copyright © 2007, 2001, 1995, 1990 by Barron's Educational Series, Inc.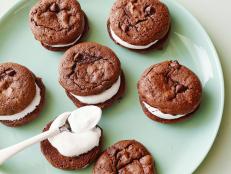 Store-bought boxed cake mix can make a lot more than birthday cake in a pinch. The recipe developers in Food Network Kitchen came up with five delectable treats that use cake mix as a base.