An all-American quick bread that substitutes cornmeal for most (or sometimes all) of the flour. It can include various flavorings such as cheese, scallions, molasses and bacon. Cornbread can be thin and crisp or thick and light. It can be baked Southern style in a skillet or in a shallow square, round or rectangular baking pan. Some of the more popular cornbreads are hushpuppies, johnnycakes and spoon bread.

From The Food Lover's Companion, Fourth edition by Sharon Tyler Herbst and Ron Herbst. Copyright © 2007, 2001, 1995, 1990 by Barron's Educational Series, Inc.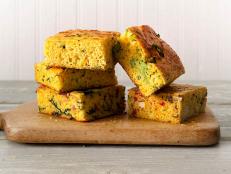 Bring something new to your next barbecue: This recipe from Food Network Magazine leads to thousands of combinations!