Any of a large variety (over 4,000) of crustaceans with 10 legs, the front two of which have pincers, and sweet, succulent meat. There are fresh- and saltwater crabs, the latter being the most plentiful. The major catch on the Pacific coast is Dungeness crab, from the North Pacific come the king crab and snow crab, along the Atlantic and Gulf coasts it's blue crab and Florida waters give us the stone crab. the pride of the Pacific coast, can be found all the way from Alaska to Mexico. This large crab can range from one to almost four pounds; its pink flesh is succulent and sweet. King crab can measure up to 10 feet, claw to claw, and it isn't unusual for it to weigh 10 to 15 pounds. The delicately flavored meat is snowy white and edged with a beautiful bright red. It's found in the northern Pacific, and because it's most abundant around Alaska and Japan, it is also referred to as Alaska king crab and Japanese king crab. Because the species is rapidly dwindling, the king crab catch is rigidly quota-controlled. Snow crab is indigenous to the North Pacific and Canada's east coast and can measure up to three feet across. Its white flesh is tinged with pink and has a slightly salty flavor. Blue crab is so named because of its blue claws and dark blue-green, oval shell. It's found along the Gulf and Atlantic coasts and marketed in both its hard- and soft-shell stages. Stone crabs can be found along America's coast from North Carolina to Texas and is most prolific in Florida waters. Its name comes from its rocklike, oval-shape shell; only the claw meat is eaten. Because of that fact, fishermen usually simply twist off the claws and throw the crab back to grow new ones. This regeneration process can take up to two years of the stone crab's 10-year lifespan. Being clawless in no way inhibits the crab's feeding capabilities, because these crabs use their claws for defensive purposes only. Stone crabmeat has a firm texture and a sweet, succulent flavor. It's marketed precooked (usually frozen) because the meat has a tendency to adhere to the shell if frozen raw. Rock crabs and Jonah crabs both can be found on the northeast coast of the United States; rock crabs can also be found along the west coast. The flesh of both is white, firm, moist and sweet. Golden crabs are found in the south Atlantic and in the Gulf of Mexico. They're so named because, when cooked, their shell turns a pale golden color. Their moist, delicate meat is white flecked with red. Hard-shell crabs are available year-round in coastal areas. They're sold whole (cooked or live), and in the form of cooked lump meat (whole pieces of the white body meat) or flaked meat (small bits of light and dark meat from the body and claws). Soft-shell crabs are always sold whole and are in season from April to mid-September, with a peak in June and July. The term "soft-shell" describes a growth state of the crab, during which time it casts off its shell in order to grow one that's larger. Soon after the crab sheds its shell, its skin hardens into a new one. During those few days before the new shell hardens, these crustaceans are referred to as "soft-shell" crabs. In the United States, the blue crab is the species most commonly eaten in its soft-shell state. All live crabs should be used on the day they're purchased. Refrigerate them until just before cooking. Cook raw crabmeat within 24 hours after the crab dies. Crabmeat is also available frozen, canned or pasteurized (heated in cans at a temperature high enough to kill bacteria, but lower than that used in canning). Pasteurized crabmeat should be stored unopened in the refrigerator for up to 6six months and used within four days of opening. Whole crabs and crabmeat can be cooked in a variety of ways including frying, steaming, broiling or in soups, gumbos or crab cakesroe, available only in the spring, is a prized addition to the South Carolina specialty, she-crab soup.

From The Food Lover's Companion, Fourth edition by Sharon Tyler Herbst and Ron Herbst. Copyright © 2007, 2001, 1995, 1990 by Barron's Educational Series, Inc.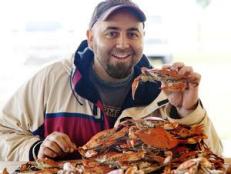 Duff Goldman has a sweet spot for Maryland crabs. He tells Food Network Magazine how to catch and cook them like a pro.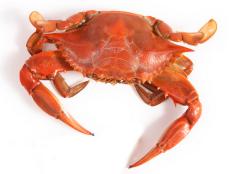 A guide to buying and cooking crabs.