A cold dish in which lump crabmeat on a bed of shredded lettuce is topped with a dressing of mayonnaise, chili sauce, cream, scallions, green pepper, lemon juice and seasonings. The crab can be garnished with a quartered tomato and hard-cooked egg. Credit for the origin of crab Louis depends on to whom you talk. Some attribute this dish to the chef at Seattle's Olympic Club, while others say it was created in San Francisco—either by the chef at Solari's restaurant or the one at the St. Francis Hotel. Whatever the case, today there are about as many versions of this favorite as there are cooks.

From The Food Lover's Companion, Fourth edition by Sharon Tyler Herbst and Ron Herbst. Copyright © 2007, 2001, 1995, 1990 by Barron's Educational Series, Inc.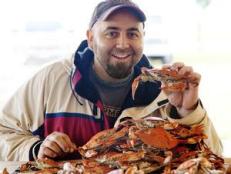 Duff Goldman has a sweet spot for Maryland crabs. He tells Food Network Magazine how to catch and cook them like a pro.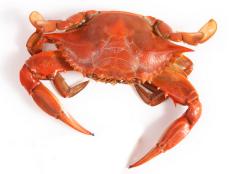 A guide to buying and cooking crabs.