These shiny scarlet berries are grown in huge, sandy bogs on low, trailing vines. They're also called bounceberries, because ripe ones bounce, and craneberries, after the shape of the shrub's pale pink blossoms, which resemble the heads of the cranes often seen wading through the cranberry bogs. Cranberries grow wild in northern Europe and in the northern climes of North America, where they are also extensively cultivated — mainly in Massachusetts, Wisconsin, Washington and Oregon. Harvested between Labor Day and Halloween, the peak market period for cranberries is from October through December. They're usually packaged in 12-ounce plastic bags. Any cranberries that are discolored or shriveled should be discarded. Cranberries can be refrigerated, tightly wrapped, for at least two months or frozen up to a year. Besides the traditional cranberry sauce, this fruit also makes delicious chutneys, pies, cobblers and other desserts. Because of their extreme tartness, cranberries are best combined with other fruits, such as apples or dried apricots. Canned cranberry sauce — jelled and whole-berry — is available year-round, as are frozen cranberries in some markets. Sweetened dried cranberries, which can be used like raisins in baked goods or as snacks, are also available in most supermarkets. Fresh cranberries are very high in vitamin C.

From The Food Lover's Companion, Fourth edition by Sharon Tyler Herbst and Ron Herbst. Copyright © 2007, 2001, 1995, 1990 by Barron's Educational Series, Inc.

Sauce is just the start. Here are dozens of fun ideas.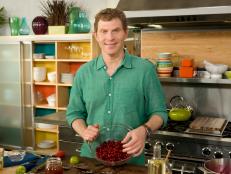 Dress up your Thanksgiving dinner spread with Bobby Flay's recipes for homemade cranberry sauce and relish from Food Network.