n. A British dessert in which raw fruit is topped with a crumbly pastry mixture and baked. crumble v. To break food up (usually with the fingers) into small pieces, such as "crumbled" bacon.

From The Food Lover's Companion, Fourth edition by Sharon Tyler Herbst and Ron Herbst. Copyright © 2007, 2001, 1995, 1990 by Barron's Educational Series, Inc.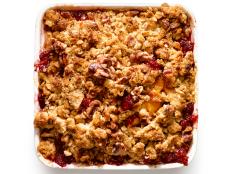 Design your dream dessert: This easy recipe leads to dozens of possibilities.