This butter-rich pastry begins as a yeast dough that is rolled out, dotted with butter, then folded and rolled again several times, as for puff pastry. The dough may be lightly sweetened and is usually flavored with vanilla or cardamom. Baked Danish pastries (often referred to simply as "Danish") contain a variety of fillings including fruit, cream cheese, almond paste and spiced nuts.

From The Food Lover's Companion, Fourth edition by Sharon Tyler Herbst and Ron Herbst. Copyright © 2007, 2001, 1995, 1990 by Barron's Educational Series, Inc.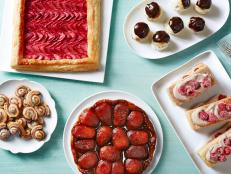 Turn store-bought dough into brunch, apps and desserts.