1. A "hot" version of angels on horseback (oysters wrapped in bacon strips), enlivened by the addition of red pepper or tabasco sauce. 2. The British rendition of this appetizer consists of wine-poached prunes stuffed with a whole almond and mango chutney, then wrapped in bacon and broiled. Like the American version, these devils on horseback are also served on toast points.

From The Food Lover's Companion, Fourth edition by Sharon Tyler Herbst and Ron Herbst. Copyright © 2007, 2001, 1995, 1990 by Barron's Educational Series, Inc.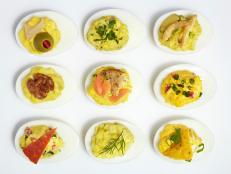 Food Network Magazine created fun new recipes by the dozen.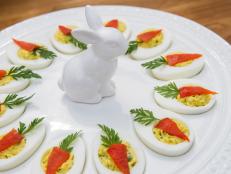 Deviled eggs are a springtime favorite. They're perfect for an Easter spread or for any special gathering when the weather gets warmer. The Kitchen has an adorable tiny garnish idea that will dress up your eggs--and your table too!