A small, typically ring-shaped pastry that is usually leavened with yeast or baking powder, and which can be baked but is generally fried. The traditional doughnut shape is formed by using a special doughnut cutter that cuts out the center hole in the dough. It can also be made with two biscuit cutters, large and small (for the hole). Fried doughnut holes are favorites with children. There are two main styles of doughnuts. Raised doughnuts are leavened with yeast and allowed to rise at least once before being fried. Besides the traditional ring-shape, raised doughnuts also come in squares and twists. Additionally, the dough is used to make oblong and round jelly-filled doughnuts—commonly called jelly doughnuts. Cake doughnuts receive their leavening power from baking powder and are chilled before frying to prevent the dough from absorbing too much oil in the process. The dough for cake doughnuts is often flavored with spices, orange or lemon zest or chocolate. Crullers are made from cake-doughnut dough. They're formed by twisting two (about 5-inch) strips of dough together before frying. Both types are usually either dusted with granulated sugar (cake doughnuts often with powdered sugar) or topped with a flavored glaze (such as chocolate or butterscotch). French doughnuts, though not as readily available as the other two types, are made with choux pastry (cream-puff pastry dough). They're very tender and light.

From The Food Lover's Companion, Fourth edition by Sharon Tyler Herbst and Ron Herbst. Copyright © 2007, 2001, 1995, 1990 by Barron's Educational Series, Inc.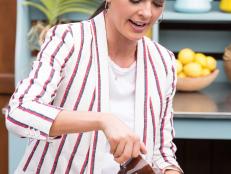 The Kitchen is grilling up some doughnuts and showing you 3 great ways to top them.