egg drop(egg flower) soup
A Chinese soup consisting of chicken broth with shredded chicken or pork, bamboo shoots, tofu and dried shiitake mushrooms. Before serving, beaten egg is swirled into the soup; therefore, the name.

From The Food Lover's Companion, Fourth edition by Sharon Tyler Herbst and Ron Herbst. Copyright © 2007, 2001, 1995, 1990 by Barron's Educational Series, Inc.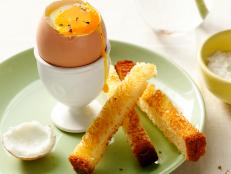 Egg lovers, rejoice! Here's a recipe for every Sunday until this time next year from Food Network Magazine.