A round, bottomless, stainless steel ring, sometimes with a vertical handle, in which an egg can be poached or fried. The ring keeps the egg perfectly round during cooking. It's removed before the egg is served.

From The Food Lover's Companion, Fourth edition by Sharon Tyler Herbst and Ron Herbst. Copyright © 2007, 2001, 1995, 1990 by Barron's Educational Series, Inc.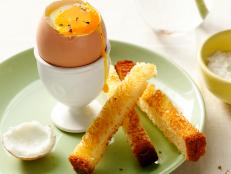 Egg lovers, rejoice! Here's a recipe for every Sunday until this time next year from Food Network Magazine.