A kitchen tool with a slatted, egg-shaped hollow on the bottom and a hinged top consisting of 10 fine steel wires. When the upper portion is brought down onto a hard-cooked egg sitting in the base, it cuts the egg into even slices.

From The Food Lover's Companion, Fourth edition by Sharon Tyler Herbst and Ron Herbst. Copyright © 2007, 2001, 1995, 1990 by Barron's Educational Series, Inc.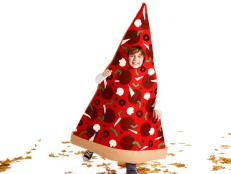 The wardrobe whiz from Good Eats with Alton Brown dreams up Halloween costumes for little food lovers.