Because the eggplant is a member of the nightshade family, it's related to the potato and tomato. Though commonly thought of as a vegetable, eggplant is actually a fruit — specifically, a berry. There are many varieties of this delicious food, ranging in color from rich purple to white, in length from two to 12 inches and in shape from oblong to round. In the United States, the most common eggplant is the large, cylindrical- or pear-shape variety with a smooth, glossy, dark purple skin. It's available year-round, with the peak season during August and September. Choose a firm, smooth-skinned eggplant heavy for its size; avoid those with soft or brown spots. Eggplants become bitter with age and are very perishable. They should be stored in a cool, dry place and used within a day or two of purchase. If longer storage is necessary, place the eggplant in the refrigerator vegetable drawer. When young, the skin of most eggplants is deliciously edible; older eggplants should be peeled. Since the flesh discolors rapidly, an eggplant should be cut just before using. Bitter, overripe fruit can benefit by the ancient method of salting both halves and weighting them for 20 minutes before rinsing; the salt helps eliminate some of the acrid taste. Eggplant can be prepared in a variety of ways including baking, broiling and frying. It does, however, have spongelike capacity to soak up oil so it should be well coated with a batter or crumb mixture to inhibit fat absorption. Many other varieties of this versatile fruit are now finding their way into some markets. The very narrow, straight Japanese or Asian eggplant ranges in color from solid purple to striated shades and has tender, slightly sweet flesh. The Italian or baby eggplant looks like a miniature version of the common large variety, but has a more delicate skin and flesh. The appearance of the egg-shaped white eggplant makes it clear how this fruit was named. It has a tougher skin, but firmer, smoother flesh. In general, these varieties can be cooked in many of the same methods as the large eggplant. They rarely require salting, however, and usually benefit from a short cooking time.

From The Food Lover's Companion, Fourth edition by Sharon Tyler Herbst and Ron Herbst. Copyright © 2007, 2001, 1995, 1990 by Barron's Educational Series, Inc.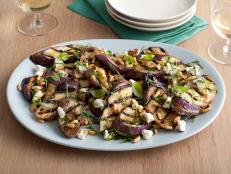 Hearty, versatile eggplant's not just for side dishes -- make this meaty, in-season fruit the star of your meal.