A hearty blend of several of various black teas (usually assam and ceylon). English breakfast tea is more full-flavored and full-bodied than a single black tea. See also tea.

From The Food Lover's Companion, Fourth edition by Sharon Tyler Herbst and Ron Herbst. Copyright © 2007, 2001, 1995, 1990 by Barron's Educational Series, Inc.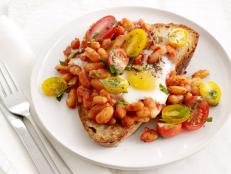 What's for breakfast in the UK? Eggs and Beans; try Food Network Magazine's modernized version for breakfast this weekend.