see 1. An herb and spice mixture specifically created to complement fish and shellfish. The blend varies depending on the manufacturer, but typically includes allspice, bay leaves, cloves, ginger, mustard seeds, peppercorns and red chiles. Packages of fish boil (also called crab boil and shrimp boil) can be found in supermarkets. The contents are combined with the boiling water in which fish or shellfish are cooked. 2. An outdoor "picnic" in which fish, new potatoes and usually onions are cooked in huge pots of salted water over an intensely hot open fire.

From The Food Lover's Companion, Fourth edition by Sharon Tyler Herbst and Ron Herbst. Copyright © 2007, 2001, 1995, 1990 by Barron's Educational Series, Inc.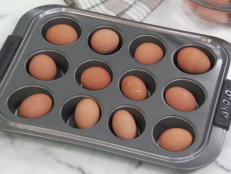 "Hard-boiling" eggs in the oven is perfect for making large batches of eggs, and it offers consistent results with little fuss or attention required.