Though the most universal function of flax seed is to produce linseed oil (commonly used in paints, varnishes, linoleums and inks), this tiny seed contains several essential nutrients including calcium, iron, niacin, phosphorous and vitamin E. It's also a rich source of Omega-3 fatty acids (see fats and oils). Flax seed can be found in natural food markets and some supermarkets. It has a mild nutty flavor and is often used simply sprinkled over hot dishes such as cooked cereal or stir-frys. The seed can also be sprouted and used in salads and sandwiches. Flax seed is naturally mucilaginous and, when ground into a flour and mixed with liquid, produces a blend with a texture akin to that of egg whites. This gelatinous mixture can be used in place of eggs to add body to baked goods—unlike eggs, however, it does not have a leavening effect. Because it has a high fat content, flax seed should be stored in the refrigerator or freezer, where it will keep for up to 6 months. Though it is considered a digestive aid, it should also be noted that, for some people, flax seed also has a laxative effect.

From The Food Lover's Companion, Fourth edition by Sharon Tyler Herbst and Ron Herbst. Copyright © 2007, 2001, 1995, 1990 by Barron's Educational Series, Inc.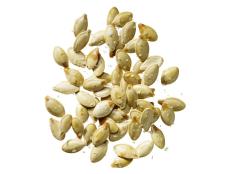 Pumpkins aren't just for pies and carving. Roast the seeds for a tasty treat or use them in these delicious recipes.