Looking like a giant, multipetaled, ruffled flower, this vegetable comes in colors that range from white to pink to purple, all encircled by curly green leaves. Flowering kale (Brassica oleracea), which is the oldest member of the cabbage family, has a slightly bitter taste and semicrisp texture. It's available from September through December. Choose heads with fresh-looking, brightly colored leaves with no sign of wilting. Refrigerate in a plastic bag for up to 5 days. See also kale.

From The Food Lover's Companion, Fourth edition by Sharon Tyler Herbst and Ron Herbst. Copyright © 2007, 2001, 1995, 1990 by Barron's Educational Series, Inc.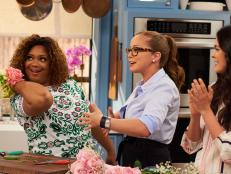 On Mother's Day, Americans spend BILLIONS--with a "B"--of dollars on flowers each year. The Kitchen has come up with 3 beautiful DIY flower techniques that are perfectly pleasing for every mom and will cost you less than pricey bouquets.