see candied fruit and flowers

From The Food Lover's Companion, Fourth edition by Sharon Tyler Herbst and Ron Herbst. Copyright © 2007, 2001, 1995, 1990 by Barron's Educational Series, Inc.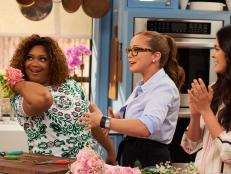 On Mother's Day, Americans spend BILLIONS--with a "B"--of dollars on flowers each year. The Kitchen has come up with 3 beautiful DIY flower techniques that are perfectly pleasing for every mom and will cost you less than pricey bouquets.