Potatoes that have been cut into thick to thin strips, soaked in cold water, blotted dry, then deep-fried until crisp and golden brown. They are called pommes frites in France and chips in Britain. The name does not come from the fact that their origin is French, but because the potatoes are "frenched"—cut into lengthwise strips. Other versions of french-fried potatoes are shoestring potatoes (matchstick-wide) and steak fries (very thick strips).

From The Food Lover's Companion, Fourth edition by Sharon Tyler Herbst and Ron Herbst. Copyright © 2007, 2001, 1995, 1990 by Barron's Educational Series, Inc.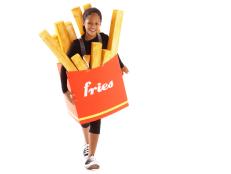 The wardrobe whiz from Good Eats with Alton Brown dreams up Halloween costumes for little food lovers.