1. To cut a vegetable or meat lengthwise into very thin strips. Beans and potatoes are two vegetables that are commonly "frenched." 2. To cut the meat away from the end of a rib or chop, so that part of the bone is exposed.

From The Food Lover's Companion, Fourth edition by Sharon Tyler Herbst and Ron Herbst. Copyright © 2007, 2001, 1995, 1990 by Barron's Educational Series, Inc.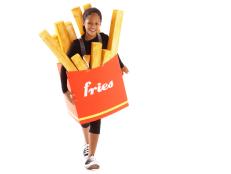 The wardrobe whiz from Good Eats with Alton Brown dreams up Halloween costumes for little food lovers.