Said to have been invented during the late 1940s boom of Italian-American restaurants, garlic bread consists of Italian or French bread slices, spread on both sides with garlic butter and heated in the oven. There are many variations, including bread brushed with olive oil and sprinkled with minced garlic and herbs. It can also be broiled or grilled.

From The Food Lover's Companion, Fourth edition by Sharon Tyler Herbst and Ron Herbst. Copyright © 2007, 2001, 1995, 1990 by Barron's Educational Series, Inc.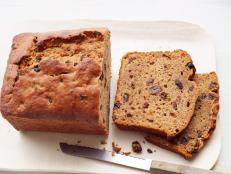 Think beyond banana bread — Food Network Magazine has dozens of sweet and savory ideas.