Pronunciation: [jeh-LAH-toh]

pl. gelati [jeh-LAH-tee] Italian for "ice cream." Gelato doesn't contain as much air as its American counterpart and therefore has a denser texture. An Italian ice cream parlor is called a gelateria. See also ice cream.

From The Food Lover's Companion, Fourth edition by Sharon Tyler Herbst and Ron Herbst. Copyright © 2007, 2001, 1995, 1990 by Barron's Educational Series, Inc.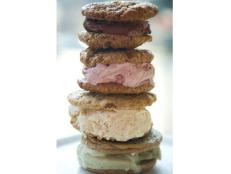 Move over, chocolate, vanilla and strawberry. The world's most-delicious dessert is showing up in shops from coast to coast in delectable flavors like salted caramel, Prosecco, roasted banana and beyond.