n. A thin, glossy coating for both hot and cold foods. A savory glaze might be a reduced meat stock or aspic, whereas a sweet glaze could be anything from melted jelly to a chocolate coating. An egg wash brushed on pastry before baking to add color and shine is also called a glaze. glaze v. To coat food with a thin, liquid, sweet or savory mixture that will be smooth and shiny after setting.

From The Food Lover's Companion, Fourth edition by Sharon Tyler Herbst and Ron Herbst. Copyright © 2007, 2001, 1995, 1990 by Barron's Educational Series, Inc.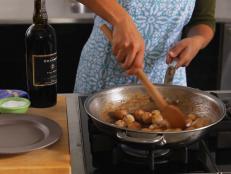 Follow this guide to make gorgeous glazed vegetables, then watch our how-to video.