Pronunciation: [GROO-per]

Although some weigh 1⁄3 ton, the average size of this fish is from 5 to 15 pounds. Groupers are found in the waters of the Gulf of Mexico and the North and South Atlantic. They're marketed whole as well as in fillets and steaks. They have a lean, firm flesh that is suitable for baking, broiling, frying, poaching or steaming. The grouper's skin, which is very strongly flavored, should always be removed before cooking. The most popular members of this sea bass family are the black grouper, Nassau grouper, red grouper and yellowmouth (or yellowfin) grouper.See also fish.

From The Food Lover's Companion, Fourth edition by Sharon Tyler Herbst and Ron Herbst. Copyright © 2007, 2001, 1995, 1990 by Barron's Educational Series, Inc.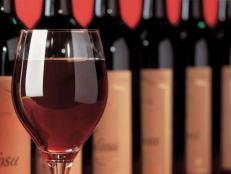 As tempting as it is for me to serve a fine Burgundy at Thanksgiving, I've learned that most guests do not crave the fussy or the obscure. Wine at Thanksgiving should be like a Steve Martin flick: likable, uncomplicated and inexpensive.