1. Said to have made its first appearance at the St. Louis Louisiana Purchase Exposition in 1904, the hamburger is one of America's favorite foods. It consists of a cooked patty of ground beef sandwiched between two bread halves, usually in the form of a hamburger bun. The meat can be mixed with various flavorings including finely chopped onions and herbs, and is sometimes topped with a slice of cheese, in which case it becomes a cheeseburger. It's also commonly referred to as a burger and hamburger steak. The name "hamburger" comes from the seaport town of Hamburg, Germany, where it is thought that 19th-century sailors brought back the idea of raw shredded beef (known today as beef tartare) after trading with the Baltic provinces of Russia. Some anonymous German chef decided to cook the beef ... and the rest is history. 2. Ground, shredded or finely chopped beef.

From The Food Lover's Companion, Fourth edition by Sharon Tyler Herbst and Ron Herbst. Copyright © 2007, 2001, 1995, 1990 by Barron's Educational Series, Inc.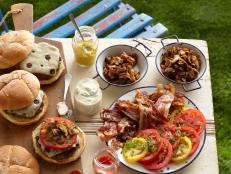 Tips for selecting meat and forming patties, the foundation of a perfect hamburger.