A plastic or cast-aluminum utensil that forms perfectly round, flat hamburger patties. It comes in two separate round pieces, the top part having a plunger. The hamburger meat is placed in the bottom half, which is shaped like a disc with ½- to 1-inch sides. The top of the utensil is set over the base and, by pushing the plunger, the hamburger meat inside is pressed into a perfect disk.

From The Food Lover's Companion, Fourth edition by Sharon Tyler Herbst and Ron Herbst. Copyright © 2007, 2001, 1995, 1990 by Barron's Educational Series, Inc.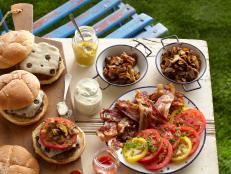 Tips for selecting meat and forming patties, the foundation of a perfect hamburger.