This sweet, succulent member of the muskmelon family (see melon) was prized by ancient Egyptians thousands of years ago, and ages before that in Persia, where the muskmelon is thought to have originated. Luckily for American honeydew enthusiasts, the melons are now grown in California and parts of the Southwest. The slightly oval honeydew is distinguished by a smooth, creamy-yellow rind and flesh that's extraordinarily juicy and sweet. The common green honeydew has a pastel green flesh, the gold and orange varieties have flesh in those colors respectively. Honeydews range in weight from 4 to 8 pounds and are available May through September from Arizona, California and Texas, and the remainder of the year from Mexico. The gold and orange varieties are not as readily available and can sometimes only be found at specialty produce markets and farmers markets. Perfectly ripe honeydews will have an almost indistinguishable wrinkling on the skin's surface, often detectable only by touch. Choose one that's very heavy for its size. Underripe melons can be matured at room temperature. Wrap ripe melons in a plastic bag and refrigerate up to 5 days. Honeydew melons can be used in salads, desserts, as a garnish and in fruit soups. They are a good source of vitamin C.

From The Food Lover's Companion, Fourth edition by Sharon Tyler Herbst and Ron Herbst. Copyright © 2007, 2001, 1995, 1990 by Barron's Educational Series, Inc.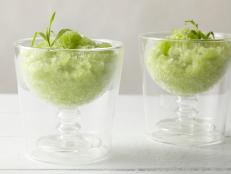 Honeydew melon is in season; find out how to choose one, the best ways to eat it, and why it's so good for you.