The term for one of America's favorite sandwiches (the other being the hamburger), which consists of a frankfurter in an oblong-shaped bun with any of various toppings including mustard, ketchup, pickle relish, cheese, sauerkraut and beans. Regular hot dogs are about 6 inches long, while they are also available in foot-long versions. Among the many aliases for hot dogs are wiener dog, frankfurter, frank and tube steak. See also corn dog; pigs in blankets.

From The Food Lover's Companion, Fourth edition by Sharon Tyler Herbst and Ron Herbst. Copyright © 2007, 2001, 1995, 1990 by Barron's Educational Series, Inc.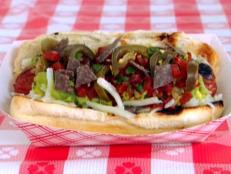 Feed a crowd with grilled hot dogs and fantastic regional hot dog toppings, from Chicago-style to Venezuelan.