In the world of food and drink, the word house refers to the restaurant or establishment at hand. For example: 1. House wine is one featured by a restaurant or bar and often served in a carafe or by the glass. Sometimes a winery does a special bottling and labels the wines for an establishment. House wines are usually inexpensive wines that offer the diner an economical option to the more pricey, better-known selections on the wine list. Ask the server what the house wine is — he or she should be able to tell you the variety (Chardonnay, Merlot and so on), brand name and vintage (if any). 2. House dressing is generally a salad dressing created by that restaurant's chef. 3. House brand typically refers to a liquor (usually inexpensive) that a bar uses for drinks unless a specific brand is requested. 4. On the house refers to an item given to the customer for free.

From The Food Lover's Companion, Fourth edition by Sharon Tyler Herbst and Ron Herbst. Copyright © 2007, 2001, 1995, 1990 by Barron's Educational Series, Inc.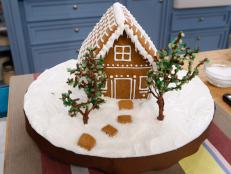 Some clever tips for creating the best gingerbread house on the block, courtesy of The Kitchen.