A protein obtained from various foods (like soybeans, corn or wheat), then broken down into amino acids by a chemical process called acid hydrolysis. Hydrolyzed plant or vegetable protein is used as a flavor enhancer in numerous processed foods like soups, chilis, sauces, stews and some meat products like frankfurters. See also vegetable protein.

From The Food Lover's Companion, Fourth edition by Sharon Tyler Herbst and Ron Herbst. Copyright © 2007, 2001, 1995, 1990 by Barron's Educational Series, Inc.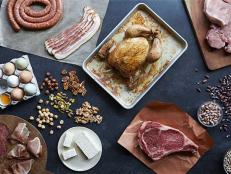 This important nutrient helps your body build and repair itself. Find out how much you need each day.