This handheld blender is tall, narrow and has a rotary blade at one end. It has variable speeds, is entirely portable and may be immersed right into a pot of soup (or other mixture) to purée or chop the contents. Many immersion blenders come with a whisk attachment (good for whipping cream), and other accoutrements such as strainers or beakers for mixing individual drinks. Some also come with wall mounts.

From The Food Lover's Companion, Fourth edition by Sharon Tyler Herbst and Ron Herbst. Copyright © 2007, 2001, 1995, 1990 by Barron's Educational Series, Inc.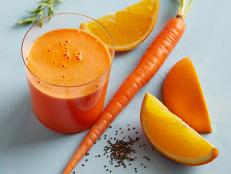 From using a juicer to picking the best ingredients, here's the everything guide to fresh fruit and vegetable drinks.