Known since the mid-1800s, jelly rolls are cakes made of a thin sheet of sponge cake, spread with jam or jelly (and sometimes whipped cream or frosting) and rolled up. This type of cake is traditionally sprinkled with powdered sugar, rather than being frosted. When cut, jelly rolls have an attractive pinwheel design. The British term for jelly roll is Swiss roll.

From The Food Lover's Companion, Fourth edition by Sharon Tyler Herbst and Ron Herbst. Copyright © 2007, 2001, 1995, 1990 by Barron's Educational Series, Inc.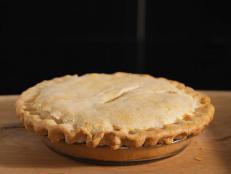 Follow these easy steps for success every time you roll and crimp pie dough.