This large, plump almond is imported from Spain and sold plain as well as encased in hard pastel candy coatings of various colors. See also almond; nuts.

From The Food Lover's Companion, Fourth edition by Sharon Tyler Herbst and Ron Herbst. Copyright © 2007, 2001, 1995, 1990 by Barron's Educational Series, Inc.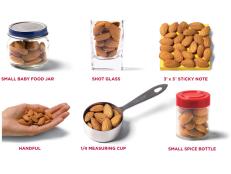 One serving of almonds equals 23 nuts, but if you're not one to count up your snacks, use this visual guide to help you control portions.