Small chunks of meat, fish or shellfish that are usually marinated before being threaded on a skewer and grilled over coals. Pieces of vegetables can also accompany the meat on the skewer. Also called shish kebab and shashlik.

From The Food Lover's Companion, Fourth edition by Sharon Tyler Herbst and Ron Herbst. Copyright © 2007, 2001, 1995, 1990 by Barron's Educational Series, Inc.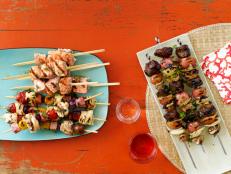 Food Network Magazine designed dozens of dinners you can make (and serve!) on a stick.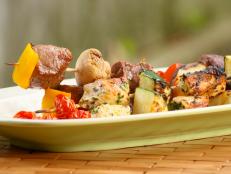 These tips will help you grill your kebabs to tender perfection.