Native to the Mediterranean countries, the leek has been prized by gourmets for thousands of years. Nero believed leeks would improve his singing voice and is said to have eaten prodigious quantities to that end. In the sixth century A.D., the Welsh made leeks their national symbol because they were convinced that the leeks they wore on their helmets to distinguish them from their enemies strengthened them and helped them win wars. Leeks still hold a flavorful spotlight in today's cuisine. Looking like a giant scallion, the leek is related to both the garlic and the onion, though its flavor and fragrance are milder and more subtle. It has a thick, white stalk that's cylindrical in shape and has a slightly bulbous root end. The broad, flat, dark green leaves wrap tightly around each other like a rolled newspaper. Leeks are available year-round in most regions. Choose those with crisp, brightly colored leaves and an unblemished white portion. Avoid any with withered or yellow-spotted leaves. The smaller the leek, the more tender it will be. Refrigerate leeks in a plastic bag up to five days. Before using, trim rootlets and leaf ends. Slit the leeks from top to bottom and wash thoroughly to remove all the dirt trapped between the leaf layers. Leeks can be cooked whole as a vegetable or chopped and used in salads, soups and a multitude of other dishes.

From The Food Lover's Companion, Fourth edition by Sharon Tyler Herbst and Ron Herbst. Copyright © 2007, 2001, 1995, 1990 by Barron's Educational Series, Inc.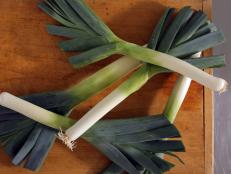 Leeks are a delicious vegetable, but they're grown in sandy soil, so they need a good cleaning before you use them in recipes.