A pan is lined for many reasons—to prevent the mixture in it from sticking, to provide structure to a soft mixture or to add texture and/or flavor. The lining can be a nonedible material such as parchment paper, thin slices of cake (for structure, as in a charlotte), slices of bacon (as with a pâté) or a simple coating of bread or cookie crumbs.

From The Food Lover's Companion, Fourth edition by Sharon Tyler Herbst and Ron Herbst. Copyright © 2007, 2001, 1995, 1990 by Barron's Educational Series, Inc.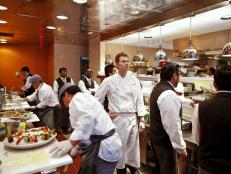 At the restaurant that inspired his latest cookbook, Bobby Flay shows Food Network Magazine his other life as a working chef—and his unlikely rise to the top.